AC Nagano Parceiro's
Yuichi Yoda was the goal hero in Sunday's big match in Division 1 of the Hokushinetsu League. The 29-year-old striker scored with seventeen minutes to go to claim a crucial three points and a win over local rivals
Matsumoto Yamaga Club,
in a top-of-the-table encounter watched by 6399 fans at Matsumoto's Alwin Stadium. This result leaves Nagano three points ahead of Yamaga,
Japan Soccer College
and
Zweigen Kanazawa,
the latter two of whom met in Niigata, with JSC running out 2-1 winners in a close game.
Ishikawa's
Fervorosa
are now occupying their familiar mid-table position in spite of the investments in their squad made by club management during the close season. But following on from consecutive defeats in the first two games of the year, they have now won two on the trot after a comfortable 3-0 victory over struggling promoted side
Valiente Toyama.
It's Valiente who slip to the bottom of the table thanks to their nearest rivals
Niigata University of Management
and
FC Ueda Gentian
picking up a point apiece from a 2-2 draw.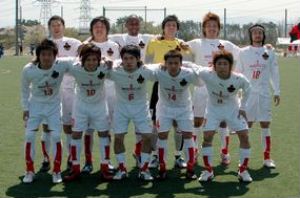 Zweigen Kanazawa before their defeat to JSC
Sun 29 Apr: Japan Soccer College 2-1 Zweigen Kanazawa
Sun 29 Apr: Matsumoto Yamaga Club 0-1 AC Nagano Parceiro
Sun 29 Apr: Niigata University of Management 2-2 FC Ueda Gentian
Sun 29 Apr: Valiente Toyama 0-3 Fervorosa
1. AC Nagano Parceiro 12 (+13)
2. Matsumoto Yamaga Club 9 (+11)
3. Japan Soccer College 9 (+8)
4. Zweigen Kanazawa 9 (+4)
5. Fervorosa 6 (+2)
6. Ueda Gentian 1 (-9)
7. Niigata University of Management 1 (-15)
8. Valiente Toyama 0 (-13)
Nagano Parceiro celebrate their goal against Matsumoto Yamaga
スポンサーサイト