It's all very close in Division 2 of the Hokushinetsu League following on from Sunday's round 3 fixtures, four teams within a single point of the top spot. That's currently held by
FC Antelope Shiojiri,
who were held to a 1-1 draw by
Teihens FC
and thus gave up their 100% record. But ambitious
Saurcos Fukui
overcame new boys
Ohara School JaSRA
3-2 and in joint third place now are
Granscena Niigata
– shock 1-0 losers to local rivals
CUPS Niigata
– and
Maruoka Phoenix,
who ensured that
Toyama Shinjo Club's
miserable start to the year continued by beating them 2-0.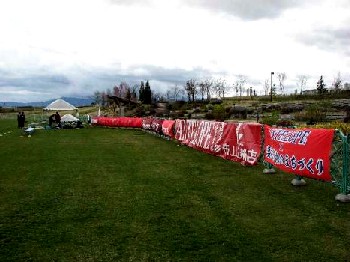 An FC Antelope banner encourages the lads against Teihens
Sun 22 Apr: CUPS Niigata 1-0 Granscena Niigata
Sun 22 Apr: FC Antelope Shiojiri 1-1 Teihens FC
Sun 22 Apr: Ohara School JaSRA 2-3 Saurcos Fukui
Sun 22 Apr: Toyama Shinjo Club 0-2 Maruoka Phoenix
1. FC Antelope Shiojiri 7 (+2)
2. Saurcos Fukui 6 (+4)
3. = Granscena Niigata 6 (+3)
3. = Maruoka Phoenix 6 (+3)
5. Teihens FC 4 (+5)
6. Ohara School JaSRA 3 (-2)
7. CUPS Niigata 3 (-5)
8. Toyama Shinjo Club 0 (-10)
スポンサーサイト