It was mostly a day of close games on Sunday in the Kyushu League, as the teams finished off round 4 following on from
Honda Lock's
defeat of
Nanakuma Tombies
on Saturday.
Nippon Steel Oita
kept their perfect start to the season going with a 1-0 win in Kagoshima against the students of
Osumi NIFS United,
while
Kaiho Bank SC
moved away from the foot of the table with their first win points of the season thanks to a 2-0 defeat of newly promoted
Kumamoto Teachers.
A goal in each half from midfield man Tomoki Hideka took the somewhat underperforming
New Wave Kitakyushu
past
Okinawa Kariyushi.
But the match of the day was undoubtedly the derby clash in Nagasaki, where
Mitsubishi Heavy Industries Nagasaki
sensationally led 1-0 at half time against local rivals and big guns
V Varen Nagasaki.
The 2006 champions and this season's favourites nevertheless fought back after half time and a hat-trick from ex-
Rosso Kumamoto
forward Keisuke Shuto contributed to a 6-1 win.
Shota Hirata, Mitsubishi Heavy Industries' scorer in the derby match
Sun 15 Apr: Kumamoto Teachers 0-2 Kaiho Bank SC
Sun 15 Apr: Mitsubishi Heavy Industries Nagasaki 1-6 V Varen Nagasaki
Sun 15 Apr: Okinawa Kariyushi 0-2 New Wave Kitakyushu
Sun 15 Apr: Osumi NIFS United 0-1 Nippon Steel Oita
1. V Varen Nagasaki 12 (+24)
2. Nippon Steel Oita 12 (+12)
3. Honda Lock 9 (+15)
4. New Wave Kitakyushu 9 (+6)
5. Mitsubishi Heavy Industries Nagasaki 6 (-8)
6. Volca Kagoshima 5 (+6)
7. Okinawa Kariyushi 3 (-2)
8. Kaiho Bank SC 3 (-14)
9. Osumi NIFS United 1 (-9)
10. Kumamoto Teachers 0 (-11)
11. Nanakuma Tombies 0 (-19)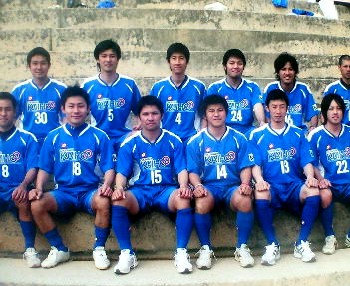 A most peculiar image of Kaiho Bank SC
スポンサーサイト