It's back up to the top of the JFL table - at least until Sunday - for
Sagawa Kyubin SC,
following their comfortable enough 2-0 win away at
FC Kariya.
Once again Sagawa's goal heroes were big striker Sho Gokyu and midfielder Shogo Shimada, the latter of whom notched his fifth goal in four games to make it 2-0 just before half time. Poor old Kariya, meanwhile, have yet to pick up so much as a point from six matches and coach Nariyasu Yasuhara must surely be living on borrowed time.
Indeed, the Aichi club sink to the bottom of the league as a result of their defeat and a first win of 2007 for
Sagawa Printing,
1-0 winners over
TDK SC
thanks to a Shinobu Yusa goal. But continuing their excellent start to the season are
Yokogawa Musashino,
now third after they defeated an
Arte Takasaki
side who have now scored only once all year. On target with the score goal of the game for unbeaten Yokogawa was Kosuke Ota - like Sho Gokyu, formerly on the books at J2 outfit
Thespa Kusatsu.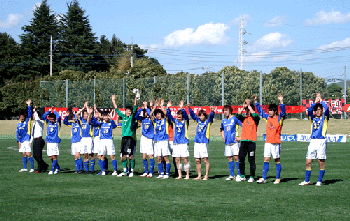 Cheery Yokogawa Musashino after their win at Arte Takasaki
Sat 14 Apr: Arte Takasaki 0-1 Yokogawa Musashino
Sat 14 Apr: FC Kariya 0-2 Sagawa Kyubin SC
Sat 14 Apr: Sagawa Printing 1-0 TDK SC
1. Sagawa Kyubin SC 15 (+12)
2. FC Gifu 15 (+7)
3. Yokogawa Musashino 14 (+6)
4. Tochigi SC 13 (+9)
5. Rosso Kumamoto 12 (+8)
6. YKK AP 12 (+4)
7. Alo's Hokuriku 11 (+3)
8. Honda FC 10 (+5)
9. JEF Reserves 8 (+1)
10. TDK SC 6 (-3)
11. Sony Sendai 4 (-2)
12. Ryutsu Keizai University 4 (-3)
13. Arte Takasaki 4 (-8)
14. Mitsubishi Mizushima 3 (-5)
15. Sagawa Printing SC 3 (-8)
16. Gainare Tottori 2 (-5)
17. FC Ryukyu 1 (-12)
18. FC Kariya 0 (-9)
スポンサーサイト