Yutaka Takahashi's fifth goal of the season thirteen minutes from time in their match at
FC Kariya
means that
Rosso Kumamoto
stretched their winning streak to four matches from the start of the new JFL season. But while Rosso have begun the year focused firmly on their goal of promotion to J2, Kariya's own miserable run continued - and the Aichi prefecture-based outfit are now rooted to the foot of the division with no points and only one goal to show for their efforts.
In the one other Saturday fixture, stuttering 2006 champions
Honda FC
could only manage a 1-1 draw at a
Ryutsu Keizai University
side who have now obtained good results at home to two of the JFL's strongest teams. Midfielder Katsufumi Masuda gave Honda the lead midway through the first half, only for Kei Ikeda to equalise for the students twelve minutes after the re-start.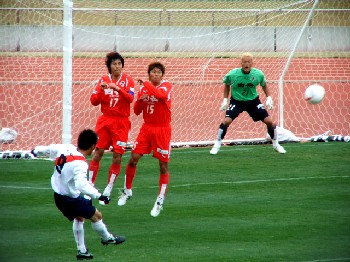 Tomohiro Kato hits a free kick for FC Kariya
Sat 31 Mar: FC Kariya 0-1 Rosso Kumamoto
Sat 31 Mar: Ryutsu Keizai University 1-1 Honda FC
1. Rosso Kumamoto 12 (+9)
2. FC Gifu 9 (+4)
3=. Yokogawa Musashino 7 (+3)
3=. Honda FC 7 (+3)
5. Tochigi SC 7 (+3)
6. Alo's Hokuriku 7 (+2)
7. Sagawa Kyubin SC 6 (+4)
8. YKK AP 6 (+2)
9. Sony Sendai 4 (+1)
10. JEF Reserves 4 (-)
11. Ryutsu Keizai University 4 (-2)
12. Mitsubishi Mizushima 3 (-3)
13. Arte Takasaki 3 (-3)
14. Gainare Tottori 2 (-1)
15. FC Ryukyu 1 (-7)
16. TDK SC 0 (-4)
17. Sagawa Printing SC 0 (-5)
18. FC Kariya 0 (-6)
スポンサーサイト