The teams competing in the JFL this season are continuing to do a remarkably efficient job at dividing the league table into two more or less equal halves, something that became yet more the case due to the two fixtures played on Saturday.
Rosso Kumamoto
are now looking increasingly strong in sixth place thanks to their first away win of the year, 2-0 at
Arte Takasaki
- J-League hopefuls on paper, but a side whose results so far on the pitch are a long way away from the standard needed to earn them a place among the pros.
Yokogawa Musashino
were the day's other winners, ex-
Urawa Reds
forward Yosuke Kobayashi netting his fifth of the season in a 2-1 win over
Sony Sendai
to go seventh in the division, just three points off the lead.
Arte Takasaki 0-2 Rosso Kumamoto
Yokogawa Musashino 2-1 Sony Sendai
The look of wide-eyed horror of Arte Takasaki fans, as they realise that - once again - their team aren't good enough to go for a place in the J-League
スポンサーサイト
2005 Kansai League champions
Banditonce Kobe
are the early leaders of the race for the 2006 title, as a goal and two assists from former
Yokohama FC
striker Masato Ishida helped them to a potentially vital 4-2 win against ambitious newly-promoted side
FC Mi-o Biwako Kusatsu
. Last year's top challengers,
Kobe FC 1970
and
Ain Food
, are both in the bottom half - and although Kobe squeezed past
Takada FC
3-2 to pick up their first points of the year, Ain lost 2-1 at
AS Laranja Kyoto
and are still seeking their first points of the year.
In Division 2, relegated side
FC Kyoto BAMB 1993
move to the top of the table thanks to a 3-1 win at
Mitsubishi Heavy Industries Kobe
, but level on points with them are
Hermano Osaka
- who also came down from the top flight at the end of 2005 - and
Technonet Osaka
, 3-2 winners at Osaka-based student outfit
Riseisha FC
. Down at the bottom and still pointless after two games are
Kohga School
, who were beaten 4-2 by
Kihoku Football Group.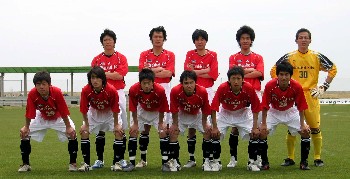 Mitsubishi Heavy Industries Kobe before their game with FC Kyoto BAMB
Division 1
AS Laranja Kyoto 2-1 Ain Food
FC Mi-o Biwako Kusatsu 2-4 Banditonce Kobe
Kyoto Shiko Club 0-2 Sanyo Electric Sumoto
Takada FC 2-3 Kobe FC 1970
1 Banditonce Kobe 6 (+4)
2 Sanyo Electric Sumoto 6 (+3)
3 FC Mi-o Biwako Kusatsu 3 (+1)
4 Takada FC 3 (+1)
5 AS Laranja Kyoto 3 (-)
6 Kobe FC 1970 3 (-2)
7 Ain Food 0 (-3)
8 Kyoto Shiko Club 0 (-4)
Division 2
Kihoku Football Group 4-2 Kohga School
Kobe FC Senior C 2-3 Hermano Osaka
Mitsubishi Heavy Industries Kobe 1-3 FC Kyoto BAMB 1993
Riseisha FC 2-3 Technonet Osaka
1 FC Kyoto BAMB 1993 6 (+4)
2 Technonet Osaka 6 (+3)
3 Hermano Osaka 6 (+2)
4 Kihoku Football Group 3 (-)
5 Mitsubishi Heavy Industries Kobe 3 (-1)
6 Riseisha FC 0 (-2)
7 Kobe FC Senior C 0 (-3)
8 Kohga School 0 (-3)