Three games to report on from Saturday afternoon. Honda FC continued their good start to the season and go top of the league, as Kodai Suzuki picked up his fourth and fifth goals of the new campaign in a 2-1 win at Ryutsu Keizai University. Rosso Kumamoto's former JEF United striker equalised for his new side, as they drew 1-1 at Yokogawa Musashino; while Sagawa Printing and Sony Sendai shared a goalless draw.

Yokogawa Musashino 1-1 Rosso Kumamoto
Sagawa Printing 0-0 Sony Sendai
Ryutsu Keizai University 1-2 Honda FC
スポンサーサイト
ALEX SCAlex SC's
almost-big achievement occurred in an Emperor's Cup tie against
SC Tottori
in 2002, when they were a goal up at half time only to lose 2-1 AET; it hasn't been a glamorous life for the small Tokushima-based outfit. Since winning a place back in the Shikoku League that same year, they have found it tough to break out of mid-table, when faced with the simple but insurmountable obstacle of bigger clubs able to attract better players. Locally,
Tokushima Vortis Amateur
and an improved
Sanyo Electric Tokushima
will only add to their problems and after finishing sixth last season, 2006 could be tough for Alex.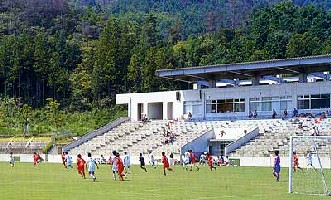 Tokushima City Sports Ground, host to Alex and Sanyo Electric Tokushima
EHIME SHIMANAMI
It was
Ehime Shimanami
who found themselves pushed back into third place in the Shikoku League last year by Sanyo Electric Tokushima's shock challenge of big guns
Nangoku Kochi
. For since winning the Ehime Prefectural League in 2000 - at which stage they were known as
Imao FC
- and gaining promotion, Shimanami have emerged as one of the stronger non-league teams on the island. With the potential emergence of
Kamatamare Sanuki,
competition is likely to be hot this season and the inconsistency that saw them lose home-and-away to
Ventana AC
in 2005 will be a concern, but the club should nevertheless be able to remain a top three outfit.
KAMATAMARE SANUKI
Originally formed as the team of
Takamatsu Commercial HS Old Boys,
the club now known as Kamatamare Sanuki have a chequered history. Their current name - which incorporates references both to Kagawa prefecture's beautiful coastline and to the local speciality udon noodles - was adopted during the close season and is their fifth in fewer than thirty years of existence. It's part of a campaign that is picking up significant local support, however, firstly to challenge Nangoku Kochi as the top Shikoku non-league side and eventually to achieve a J-League place alongside
Ehime FC
and
Tokushima Vortis
. Kamatamare have signed a couple of fringe players from
Consadole Sapporo
and may run Nangoku close this year.
NANGOKU KOCHI
Regional champions for the last five years, Nangoku Kochi are nevertheless a club who have undergone a turbulent close season. Following another failure to reach the JFL via the play-offs at the end of 2005, officials indicated that they would aim to boost the squad for the coming campaign with cast-offs from Tokushima Vortis and Ehime FC, at the same time reasserting their desire to reach the JFL. This was met with derision by star attacking midfielder Taku Terao, who posted an astonishing message on Nangoku's own bulletin board to the effect that the club was going nowhere and that he was quitting for a team with better organisation and more ambition. Evidently waters have been calmed - Terao lines up as part of the 2006 squad - but the feeling remains that all is far from well at Nangoku Kochi.
Nangoku Kochi's Haruno Sports Park
SANWA CLUB
With a base in the city of Nangoku in Kochi prefecture, in contrast to their neighbours,
Sanwa Club
have been a bottom-half-of-the-table side since first competing in the Shikoku League in 2001. 2005 proved to be a particularly hard season as they conceded seventeen goals in the last four matches to slump into the bottom two and the relegation play-offs. There matched with Ehime Prefectural League runners-up
Hisaeda FC
and with only three league games having been won all year, Sanwa fans could have been forgiven for thinking that they were heading out of Regional League football in the wrong direction - but an amazing 6-5 home win in the first leg was followed by a 2-2 draw in Ehime, and Sanwa Club live to fight another season.
SANYO ELECTRIC TOKUSHIMA
Sanyo Electric Tokushima are the only corporate team now left in the Shikoku League, of which they have been members since 1998. Most of the time they have rather struggled to compete, but over the last three seasons there has been a marked improvement in Sanyo's results, the high point to date being early in 2005 when a sensational 1-0 win over Nangoku Kochi actually took them to the top of the league. They couldn't - quite - hold on, a 2-0 defeat in the return fixture effectively condemning them to a second place finish, but the players rallied from that disappointment to finish the year on a high, running in nine against Ventana AC. A repeat performance is probably too much to ask, but Sanyo will hope for a top-half final placing.
TOKUSHIMA VORTIS AMATEUR
Known until early 2006 as
Tokushima Vortis Caballos
, the club have since formalised their status within the ranks of local J2 side Tokushima Vortis and as such are drawing inspiration from JFL side
JEF Club
, themselves previously known as
JEF United Amateurs
. Indeed, there has been somewhat optimistic talk locally of making a similar play for a JFL place - but just a year ago, Caballos were lining up in the Tokushima Prefectural League and only squeezed through the promotion play-offs at the expense of the Shikoku League's worst team of 2005,
Showa Club
. A more realistic target for 2006 will see the Amateurs tussle with the likes of Alex, Sanwa and Ventana to avoid relegation.
Ventana AC, scourge of the... no, not really
VENTANA AC
In the mid- to late-80s, Ehime's Ventana AC were one of the top sides on Shikoku, competing under the auspices of
NTT Shikoku
and winning the league on a couple of occasions. As the 90s went on, however, the team became less and less successful and in 2002 - having undergone one relegation and narrowly avoided another - the parent company's support was withdrawn. Ventana AC was subsequently formed by NTT employees as an independent club and since that time they have held on to their place in the Regional League, but not much more. 2005 started reasonably brightly, but ended with cataclysmic 8-1 and 9-1 defeats over consecutive weekends and there's no indication that this season Ventana can break into the top half of the league.